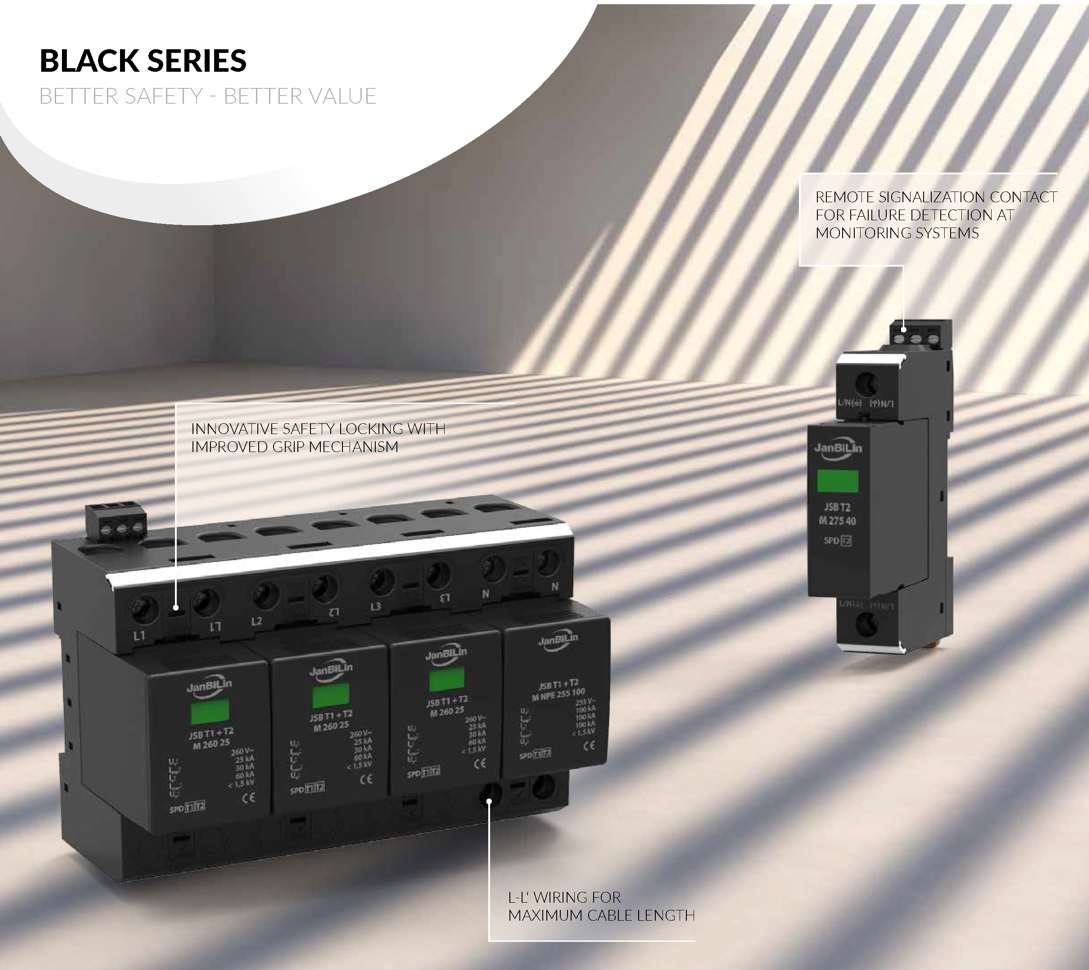 Black Series: Residential building protection conforming to the standards
Nowadays, there is an increasing tendency of modern single and multi-family homes to develop their own small private data centres in-house. Intelligent sub-distribution modules control lighting, heating and air conditioning systems. Private documents, from tax declaration to family photographs are saved on personal computers. Server along with integrated multimedia systems provide entertainment and information. Electrical surges can cause severe damages, which cannot be averted by traditional preventive measures. Only a few years ago, it was sufficient to disconnect the television and audio devices from the mains, during a thunder storm to minimalize the damage risk of a lightning strike in the immediate vicinity. Today, far lower electrical surges can virtually paralyze household and cause hardware damage of thousands of euros and the loss of valuable data.
Such high-tech infrastructure calls for adequate protection. This demand is reflected in new standards, such as the updated DIN VDE 0100-443 - "Protection against transient overvoltages due to atmospheric influences or switching processes", which came into force in October 2016.
Especially for home application, Jan Bilin GmbH developed the Black Series product line. It consists of high-quality components suitable for industrial applications. However, they are also adjusted especially to standards, requirements and installation conditions of private housing. The "Black Series" product line contains combined lightning current and surge protective device of Type 1+2 classification, and a separate Type 2-arrestors. Especially the latter protects against electrical surges due to transients or other overvoltage events. The combined lightning current and surge arrestors protect against lightning currents and electrical surges, and can replace separate Type 1 and 2 products. With a lightning impulse current capacity of 25 kA, the arrestors conform to the highest range of requirements for lightning protection class I. Furthermore, the arrestors operate without leakage currents, and are therefore suitable for their integration in the pre-area of the electric counter installation point.
All products are intended for installation on DIN mounting rail 35 and for nominal voltages of 230 V.